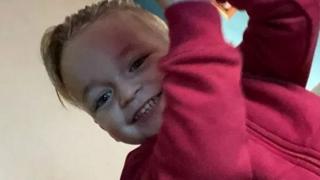 A man has admitted crushing a three-year-old to death by reversing his seat as the boy sat in a car footwell.
Stephen Waterson killed Alfie Lamb, his girlfriend's son, in February 2018.
He initially denied manslaughter but changed his plea to guilty ahead of a retrial at the Old Bailey.
In May, Alfie's mother Adrian Hoare – who watched as her son was crushed – was jailed for two years and nine months after being found guilty of child cruelty.
Sentencing her, Mr Justice Kerr told Hoare: "There was an element of deliberate disregard for Alfie's welfare."
The court had heard that Waterson became annoyed at Alfie's crying on a journey back from a shopping trip and moved his seat into him as he sat in the footwell at his mother's feet.
When Alfie continued to moan, Waterson reversed again, saying: "I won't be told what to do by a three-year-old," Hoare told jurors at her trial.
Alfie collapsed in the car and died in hospital three days later.